Radio ki Rani aka RJ Malishka Mendonsa is known to instil life to our dull mornings, isn't it ? Famous for her cool show Morning No.1 on 93.5 Red FM, this Mumbai girl is now making waves for her commendable weight loss. If you haven't got the chance to listen to her, I must remind you that she also participated in popular dance reality show, JHALAK DIKHLA JAA, Season 7. I was checking her pics on instagram and after seeing her motivational transformation, I decided to share her weight loss journey with you all.
WORKOUT
Some are naturally blessed with great genetics and have perfectly fit body but others have to work hard for it. RJ Malishka did variety of physical workouts to get the desired body. She believed in being fit and healthy and not thin and skinny. She followed a rigorous routine of dance, pilates, yoga, running etc. and has lost 16 kgs in almost 5 months.
Malishka started working out at Gold's Gym in January 2015. She pushed herself very hard in the beginning and used to workout for 2 ½ hours at a stretch. Here is what she revealed :
"I started off with cardio-elliptical trainer,  cycle and weights and also did Pilates for 1 ½ hour with trainer Megha Kawale at Peddar Road. I would be on air till 11 a.m, after which I would go for my Pilates classes. Then I would come back to the office, work on the next day's show, and head to the gym. I follow the same routine even now. I also did yoga, dancing and Zumba, all of which helped me.  Now I am also planning to take up Mixed Martial Arts".
ALSO READ: Karan Singh Grover Diet And Fitness Tips
She weigh herself every morning and still works very hard to maintain her dream body. She said, "Today, I climb six floors every day with a one kg weight strapped to each leg. It used to be a deal earlier but now I match up to the speed of the person walking without weights. I also participated in 'Pinkathon' with Milind Soman – a campaign where I ran for breast cancer awareness."
DIET
She didn't starve to get this curvy body rather she chooses to eat the right food at the right time. Her diet is healthier now and she eats every few hours. She says, "along with a healthy diet, I have my vitamins and antioxidants too as they are important as we grow older. I also have a protein shake post my workout and glutamine when I do heavy workouts. I make sure I have enough fibre in my diet". Here is her diet chart :
BREAKFAST
RJ Malishka starts her day with an avocado nut shake/ kokam juice/ aloe vera juice. along with either green or black tea. She also eat fruits like pomegranate, green apple and guava in the breakfast.
Other breakfast options include :
Tuna fish.
Potato soup.
Green salad which features boiled asparagus, broccoli and lettuce.
Sometimes red gram salad.
Raw green banana sandwich.
Banana flower soup with dates.
Lotus stem with brown rice.
Scrambled eggs.
LUNCH
Mostly "air fried" Fish or Chicken and Green salad. She prefers to eat brown rice instead of rotis when she indulge in carbs.
DINNER
She makes it a point to eat her dinner before the sun goes down and keeps her last meal light. Malishka, being a bindaas girl said there's no hard and fast rule that I stick to, I listen to my heart. For instance, I ate a small portion of tandoori chicken last night. My friend was having that with roti and I skipped the roti though I felt like it was calling out to me. I just try to avoid carbs at night.
LATE NIGHT CRAVINGS
Cucumber
Guava
Boiled asparagus or broccoli
Salad
Soup sprinkled with wheat bran.
CHEAT DAY
RJ Malishka often gives in to her temptations when it comes to desserts as she is a great dessert lover. On her cheat days, she treats her sweet tooth and cannot do without those. She says, "It is a tough task to control the food urge for a foodie like me. But I'm extra careful now and I try and eat before I go for parties".
MOTIVATIONAL FACTORS
Neetu Chandra who is also now a brand ambassador of Martial arts Taekwondo in India, motivated her to go the extra mile to work out and inspired her to shed of her weight. RJ Malishka is happy and feels fitter now. She says "I am thankful to Neetu Chandra, I do this everyday. Well almost everyday. I go to the gym and walk and do Pilates and Yoga. Only bleeding hard work will get you there. That and Oh! YOU HAVE TO ZIP YOUR MOUTH."
She also owes it to her Mom who happens to be a strict disciplinarian and would keep her diet in check ! She said you need a powerhouse mom who carefully packs exactly what and how much you get to eat.
When Malishka started working out, it was during her brief stint in dance reality show, JHALAK DIKHLA JAA, Season 7 in August 2014. She needed that flexibility in her body and the dance routines along with the workout blended in well for her. She lost some weight in that five-week course. Malishka said – Judge Karan Johar complimented me, saying, 'Tum to badi sexy hoti jaa rahi ho (You are turning sexy by the day)'. Even the Dancing Goddess Madhuri Dixit said that I looked nice and needed to keep a watch on my weight.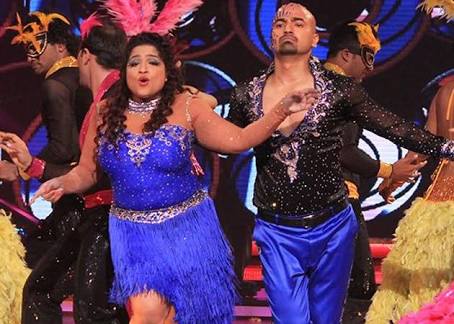 After receiving such pleasing and encouraging comments, numerous questions plagued her mind like – "How was I going to keep a tab on my weight? How would I manage my busy schedule and fitness regime" ? And it was then, she started hunting for a good trainer and dietician. When she started her weight loss journey in December 2015, she weighed a whopping 72 kgs with short structured frame of 5 ft 1 inch."
This bubbly girl now has the body that any girl would be envy of, suitable enough to sport all the summer wears one can imagine. She says, "I can wear anything I want to without being conscious. I have started wearing stuff that previously wasn't quite confident enough to carry. And I feel great!"
RJ MALISHKA'S MOTIVATIONAL MESSAGE –
"I really envy those kakdi girls who can eat whatever they want to without putting on any weight. Some of us have to work very very hard before we could flaunt a fit and near perfect body. Everyone is not endowed with that perfect body but a right blend of strict healthy diet and rigorous workout routine can do wonders. It's very hard when you start initially but you need to show patience as you are likely to get the desired results with time." So keep going !!