INTERNATIONAL DAY OF YOGA
The first International Day of Yoga was observed world over on June 21, 2015. 35,985 people, including Narendra Modi and a large number of dignitaries from 84 nations, performed 21 yoga asanas (postures) for 35 minutes at Rajpath in New Delhi. The day devoted to yoga was observed by millions across the world. After its grand success, people are all geared up to celebrate it third time on Wednesday, June 21, 2017.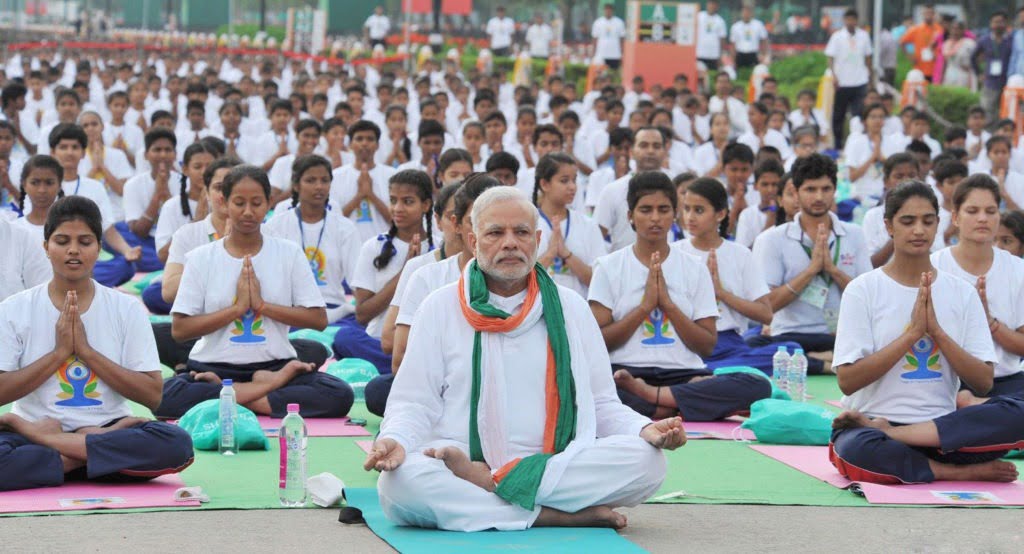 International Day of Yoga is celebrated annually on June 21 and was declared to be internationally recognized by the United Nations General Assembly (UNGA). The idea of Yoga Day was first proposed by Narendra Modi during his speech at the UNGA, on September 27, 2014. Here is what he said –
"Yoga is an invaluable gift of India's ancient tradition. This tradition is 5000 years old. It embodies unity of mind and body; thought and action; restraint and fulfilment; harmony between man and nature; a holistic approach to health and well-being. It is not about exercise but to discover the sense of oneness with yourself, the world and the nature. By changing our lifestyle and creating consciousness, it can help in well being . Let us work towards adopting an International Yoga Day."
— Narendra Modi, UN General Assembly.
Many Indian celebrities have made yoga a part and parcel of their fitness regime. Not just in India, yoga has become much popular among a number of Hollywood celebrities as well. Scroll down to check out some of the famous personalities who swear by yoga to keep themselves fit and endorse the practice.
VIRAT KOHLI
Virat Kohli, a well-known face in the sports circuit and an inspiration for millions has urged his fans, followers and common people to take up the physical and spiritual discipline of yoga. Indian cricket superstar has mentioned that yoga has helped him in becoming the fit player he is today and makes him feel confident and competitive. He says, "I do yoga everyday. It has helped me build my potential and self-confidence. So I urge you to take up the spiritual art as well and inspire yourself to push higher and build your inner and physical energy."
SHILPA SHETTY KUNDRA
Bollywood actress and fitness enthusiast Shilpa Shetty's perfectly toned body is an envy for many. She surprised everyone by losing her postpartum weight so quickly. Secret behind is her diet and fitness routine. She regularly practises yoga to maintain her hourglass figure. Actually Shilpa took on to yoga after she experienced neck problem and chronic spondylitis.
Her inclination towards yoga leads in making of Yoga DVDs, popularly known as Shilpa's Yoga, to promote this healthy practice among her fans and make them aware about its relevance and significance.
"I don't think it would have been declared as an international event if it had anything to do with religion. Yoga is a pure science," she said at the International Day of Yoga celebrations in Bangalore on June 21, 2015 at Sree Kanteerava Stadium, organised by the state government there. Shilpa had also joined yoga guru Baba Ramdev on stage at his five day yoga camp earlier this year.
KAREENA KAPOOR KHAN
Kareena Kapoor, the gorgeous and sizzling beauty queen of Bollywood is one of an ardent yoga follower. Being a big yoga fan, she makes it a point to devote at least two hours to Yoga every morning, no matter how busy she is. She created quite a stir when she went from chubby to size-zero in short span of time. Her weight loss mantra through Yoga is not hidden to anyone.
She likes to practice the mix of power yoga, hot yoga and Ashtanga yoga followed by meditation. If rumors are to be believed, the leading lady got her size zero look after doing 50 surya namaskar in one session accompanied by 1,000 kapalbhati to get in shape for the movie "Tashan."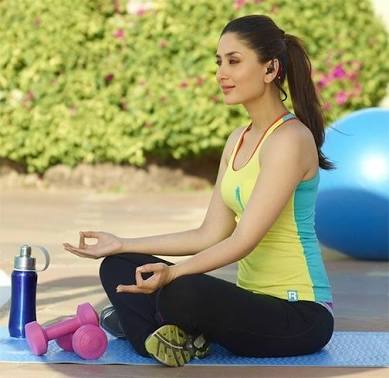 JENNIFER ANISTON
Hollywood actress Jennifer Aniston, who is an ardent follower of yoga, says – "Yoga calms me down. It's a therapy session, a workout and meditation all at the same time! It works your entire body and has relaxing benefits." She believes, "Yoga is the journey of the self, through the self, to the self".
Her advice for everyone – "Do what you can, but if you can incorporate even 15 minutes of yoga into your day, you will notice your body, mind, and emotions begin to shift and change."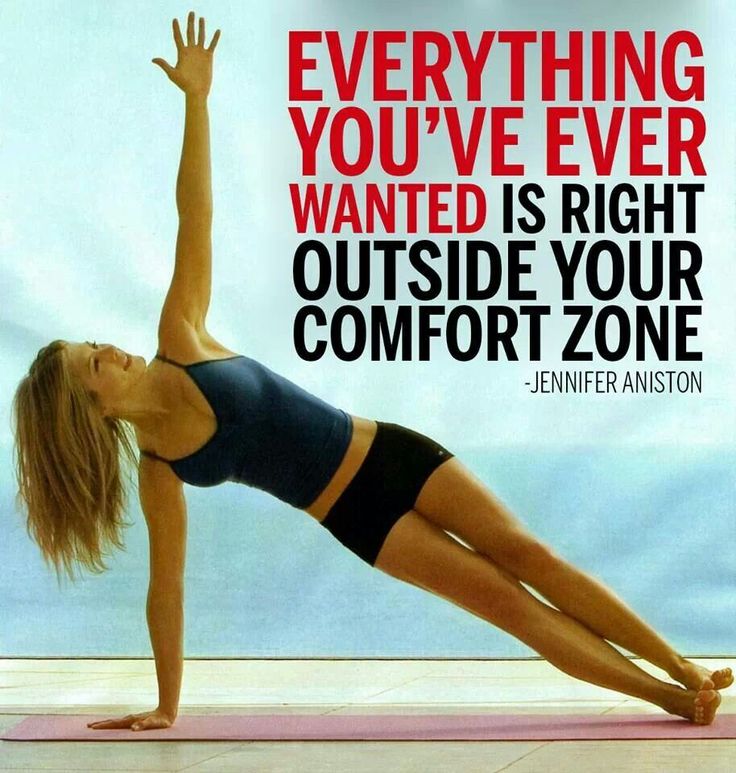 ANIL KAPOOR
Ever wondered how Anil Kapoor looks so young and vibrant even at this age. It's because veteran actor is a strict practitioner of Bikram Yoga for several years. Sonam Kapoor, her daughter has revealed that Hot yoga (also known as Bikram Yoga) is the fitness secret behind his Dad's evergreen looks. The actor has been religiously following it since the past few years. He says that it keeps him fit and flexible even on the wrong side of 50.
Actress Sonam Kapoor has also started following her father's mantra recently. She has joined well known yoga guru Bikram Choudhary's Yoga centre.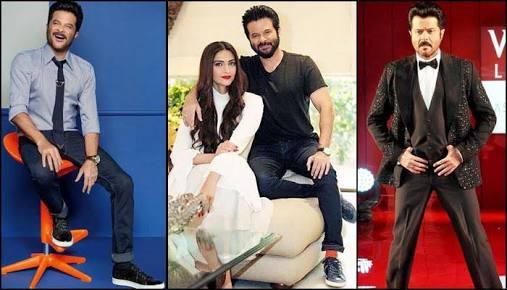 LARA DUTTA
The former Miss Universe is another bollywood celebrity who swears by yoga to stay fit and in shape. She is a strict follower and endorser of yoga. Lara said, "Yoga is the best thing that happened to me as it provides holistic wellness. I have been a Yoga practitioner for over 12 years now and the benefits that I reaped have been immense." She even practiced yoga during her pregnancy which helped her in a quick recovery post delivery.
Like Shilpa Shetty, Lara had also launched her own prenatal Yoga DVD, H.E.A.L which stands for health, exercise and longevity. The yoga practices in her DVD help all the would be mothers to get back into shape after having a baby. Well, that's how Lara quickly got back in shape despite giving birth to her daughter through C-Section.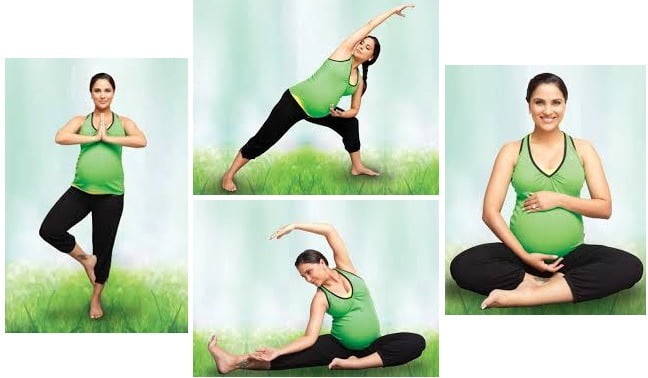 MADONNA
Madonna popularised yoga in the West and was one of the first celebrities to adopt yoga as a lifestyle. She is a fan of Ashtanga yoga and Hatha yoga and has often credited yoga as an active force in her life which keeps her mind and soul at peace. She began to practice Ashtanga yoga (the Vinyasa style) to get back in shape after the birth of her daughter, Lourdes, in 1996.
Madonna chanted the opening Ashtanga chant on her "Ray-of-Light" album and also played an Ashtanga teacher in the movie "The Next Best Thing."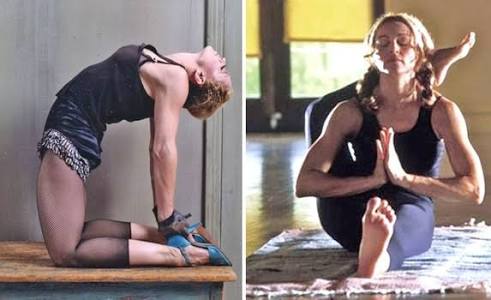 MALAIKA ARORA KHAN
Yummy Mummy Malaika is known for her sexy curvaceous body. Secret behind her super flexible physique is power yoga."I have been learning yoga for some time. Kareena and Amu (Amrita Arora) introduced me to it. Now I really look forward to my sessions with Kareena and Amu. We are yoga junkie", said Malaika.
She do yoga thrice a week at home alternating it between gym and pilates.
"CELEBRATE THE SPIRIT OF YOGA" !