Potato is that one ingredient which is used extensively in an Indian kitchen. Do you know, apart from making vegetables, it can also be used for variety of beauty and skin care purposes? Yes, you will be amazed to know about potato beauty benefits!
The Vitamin C in it boosts collagen production which helps to reduce premature ageing and prevents wrinkles. Potatoes contain an enzyme called 'catecholase' which helps to brighten skin and get rid of dark spots. The presence of mild bleaching properties in it, reduces the hyper pigmentation and lightens the skin effectively. Let's see how we can use this starchy vegetable in our beauty regime.
ALSO READ: Top Causes That Lead To Wrinkles And Saggy Skin.
Potato Beauty Benefits: POTATO MASSAGE
Wash potato with skin.
Cut thin slices out of it.
Apply and gently massage these potato slices all over your skin.
Leave it to dry on skin for 10-15 minutes.
Wash off with cool water.
This acts as a mild bleach and helps lighten your skin tone.
ALSO READ: Banana Benefits For Beauty And Fitness.
POTATO FACE MASK
Peel & grate potato.
Squeeze out potato juice.
Mix 1 tbsp 'potato juice' with 1 tsp 'honey' Apply this mixture all over skin
Keep it on for 10-15 minute.
Wash off and pat dry.
This will help brighten the skin and add perfect glow to your face.
ALSO READ: Coffee Beauty Secrets For Beautiful Skin And Hair.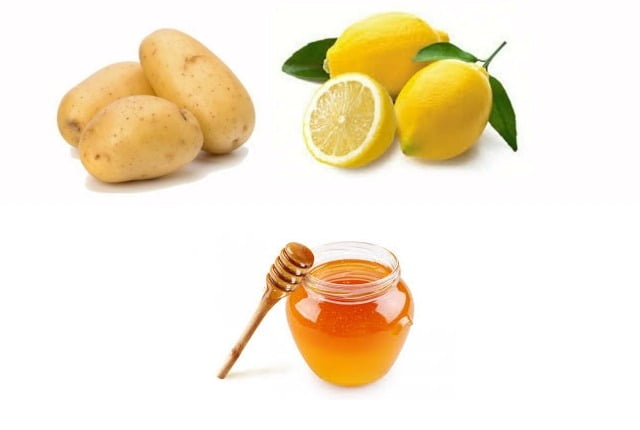 POTATO SPOT TREATMENT
Take 1 tbsp 'potato juice'.
Squeeze some 'lemon juice' into it and mix. Apply directly to blemishes and dark spots with Q-tip.
Let it sit for at least 10 minutes.
Rinse thoroughly.
It is a natural way of fading away those dark spots and facial blemishes. It reveals clear and perfect skin.
ALSO READ:Best Beauty Tips Before Going To Bed.