Worlds heaviest woman Eman Ahmed, 37, who weigh close to 500 kg arrived in Mumbai's Saifee Hospital on February 11, 2017, for a weight-reduction surgery. She has shown exceptional improvement despite suffering multiple strokes in between.
Eman's weight loss so far is a success story in itself. The doctors had set an ambitious goal of losing 50 kg in 25 days. This would have required her to drop a seemingly impossible 2 kg every day. To the surprise of everyone, however, she lost double the weight.
ALSO READ: Adnan Sami's Inspiring Weight Loss Story
"We thought she would lose around 50 kg, but were surprised to observe that she has lost more than 100 kg despite suffering from hypothyroidism and other clinical abnormalities. Our aim is to make her sit up and move in six months and over the next two years, get her back on her feet. After being given a liquid diet, regular physiotherapy and medicines, Ahmed lost 120 kg of weight (most of which comprised of water). But we can't help her reduce weight anymore. Now, we can only achieve the remaining goal through bariatric surgery which will happen soon," said Dr. Muffazal Lakdawala, the bariatric surgeon treating Eman.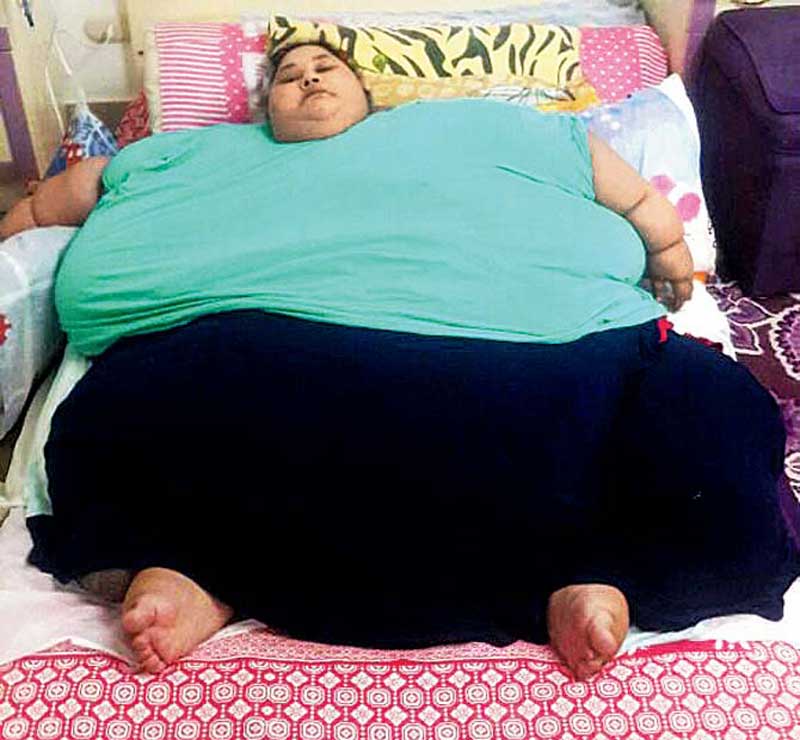 Physiotherapists and the diet team are keeping a close watch on her. Let's check out –
WORLDS HEAVIEST WOMAN – DIET
During January 2017, Eman was given 1,200 calories high protein-low carb diet of chicken, fish and dairy in Egypt to bring her weight down for travel to India. Her weight came down from 498 kg to 475 in two weeks with this diet.
In February, when she arrived in Mumbai, doctors started with a 1,100-1,200 calories liquid diet that has brought her weight down to around 460 kg in just six days.
LIQUID DIET (1,100-1,200 calories) included-
70 gm protein supplement (about 300 gm of chicken) low in phosphorus and potassium.
3 servings (600 ml) of skimmed milk.
Fiber supplements to make her feel full.

"Actually, Eman had significant protein loss because of obesity and the challenge was to give her protein while maintaining a healthy creatinine, phosphorus and potassium balance. We will continue with this diet till two weeks after surgery, and then she will be able to have semi-solid mashed foods like soup, daal, and khichdi. Four weeks after surgery, she can have regular solid food in small amounts. She can gradually increase the amount over time but will be able to eat less than half she normally did," says Dr. Carlyne Remedios, senior nutritionist, Saifee Hospital.
ALSO READ: GM DIET – Fastest Way To Lose Weight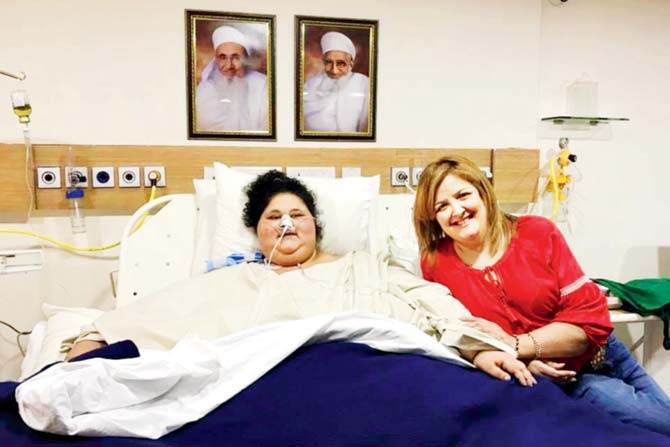 PHYSIOTHERAPY
Her size is a challenge. Eman is wider in relation to her height and her muscles can't support her weight. She measures 151 cm (4'11.5") horizontally against her height of 141 cm or 4'8", and hasn't walked in for more than two decades.
In 2014, when she weighed 300kg, Ahmed had high cholesterol level and a sudden stroke left her paralyzed (made the right side of her body weak.) This impaired her speech, her ability to swallow (she coughs when she drinks water) and left her completely bedridden.
ALSO READ: Reduce Cholesterol Without Medicines
PHYSIOTHERAPY EXERCISES
Eman is undergoing two sessions of physiotherapy every day. "Initially we did 30-45 minutes of physiotherapy with her. Most of them were passive exercises than active ones since the functioning of lungs is low. Gradually, we have increased the time period and now we can do a session for even 90 minutes," said  Dr. Swati Sanghvi, head of the advanced physiotherapy and sports rehabilitation department at Saifee Hospital.
Doctors wanted her to be able to do a mass movement. First, it was lifting her hand, followed by her arms. Then was the act of gripping and then by holding something or someone to pull herself up. But now she can pull herself up with something that is anchored.
She is also getting passive physiotherapy for speech, muscular deglutition to enable her to swallow and improvement on the right side of her body.
ALSO READ: Physiotherapy Exercises For Frozen Shoulder
Eman Ahmed has lost the title of the heaviest woman in the world, gained a real shot at a better life by dropping down to a total of 380 kg!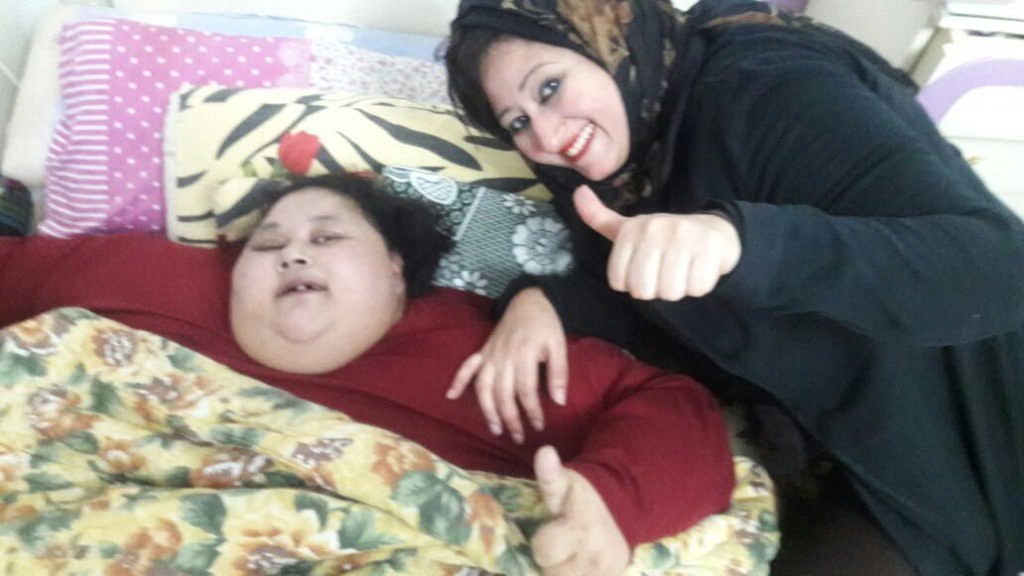 She is now ready for a surgery. Her first surgery will be a sleeve bariatric surgery. Following which, she will be sent back to Alexandria and kept under observation, until she returns for the next procedure. The hospital has collected around R60 lakh through crowd-sourcing.