The health benefits of green tea are almost endless, that's why I always start my day with it. Over the past few weeks, I have started having VLCC Slimmers Herbal Infusion Green Tea to kick-start my day. It's not just a cup of tea but a therapy. Therapy that relaxes your mind, uplift your mood and helps you in losing weight. If you are someone who loves to enjoy a hot cup of soothing green tea every day, then you should definitely try it. But first, scroll down to read my reviews on this green tea infusion.
PRODUCT DESCRIPTION
INGREDIENTS
Lotus Leaf, Green Tea, Brown Tea, Periploca, Star Anise, Malabar Tamarind, Senna, Liquorice, Basil, Dry Ginger, Fenugreek, and Cardamom.
NUTRITIONAL INFORMATION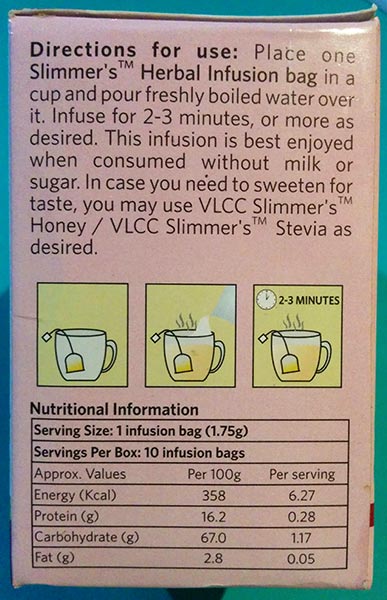 HOW TO USE
Place one Slimmers Herbal infusion bag in a cup and pour freshly boiled water over it. Infuse for 2-3 minutes, or more as desired. This infusion is best enjoyed when consumed without milk or sugar. In case you need to sweeten for taste, you may use VLCC Slimmer's Honey/ VLCC Slimmer's Stevia as desired.
OTHER AVAILABLE VARIANTS
VLCC Slimmer's Herbal Infusion with Green Tea (Stress Relief)
VLCC Slimmer's Green Tea with Herbs (Antioxidants)
PRICE
80 Rs for 10 Infusion Bags (10N × 1.75g)
LOSE WEIGHT with 'VLCC Slimmers Herbal Infusion Green Tea'
Green Tea is known to help manage weight and strengthen immunity. VLCC Slimmers Herbal Infusion Green Tea (Slimming) is a special all natural blend of herbs which work in synergy with the body's natural processes of digestion and metabolism. These herbs have been known from ancient times for their beneficial properties like easing constipation, helping digestion, breaking down fat & utilizing it as an energy source, as also helping ease water retention.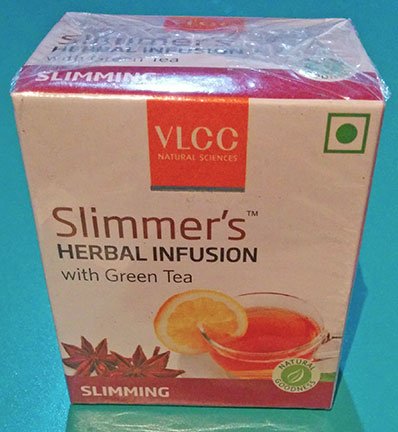 This tea with its delightful aroma provides a wonderful option for those desiring to manage their weight and also savoring the taste of good tea. It is enriched with antioxidants that come with various health benefits, right from giving you a glowing, youthful complexion to helping you lose those extra kilos! It works towards making your body slimmer and more toned. But it works best in conjunction with a sensible diet and exercise regime. Tea lovers may enjoy up to 6 cups a day.
Also, it is typically drunk without milk and sugar and hence gives zero calories as compared to your ordinary chai made with milk and sugar.
MY EXPERIENCE with VLCC Slimmers Herbal Infusion Green Tea
PACKAGING
VLCC Slimmers Herbal Infusion Green Tea comes in a box, sealed in a plastic wrap. When I opened this box to brew my morning's cuppa, I was impressed to find individual tea bags sachets each in their own envelope. Tea bags, wrapped individually means no mess and no waste! Apart from maintaining the perfect freshness, this makes it travel-friendly too. You can take your tea with you on the go and enjoy it anywhere.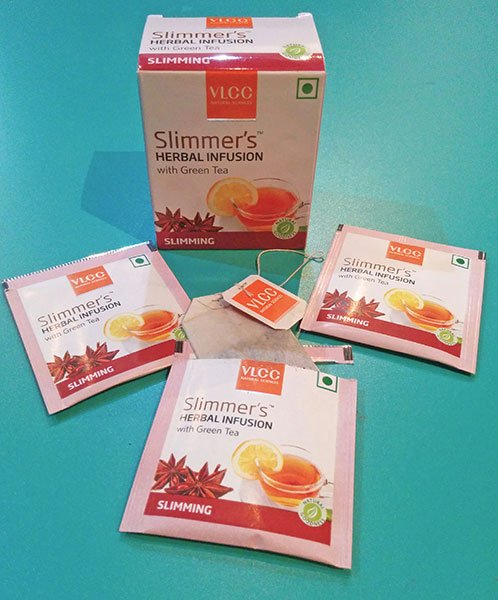 FRAGRANCE
Invigorate your senses with a cup of 'VLCC  Slimmers Herbal Infusion Green Tea.' Its subtle aroma delivers refreshment and relaxes your mind.
Tea leaves are known to capture other smell very fast. But its individual tea bags in small sachets preserves tea smell and taste from other aromatic products.
FLAVOUR
VLCC brings to you this delectable green tea infused with the goodness of star anise, liquorice, basil, dry ginger, fenugreek, and cardamom which is an irresistible blend indeed! It's not just a green tea but a natural blend of herbs which gives you delightfully light, fresh, and non-bitter taste.
It's naturally fresh taste can be best enjoyed when had without milk or sugar.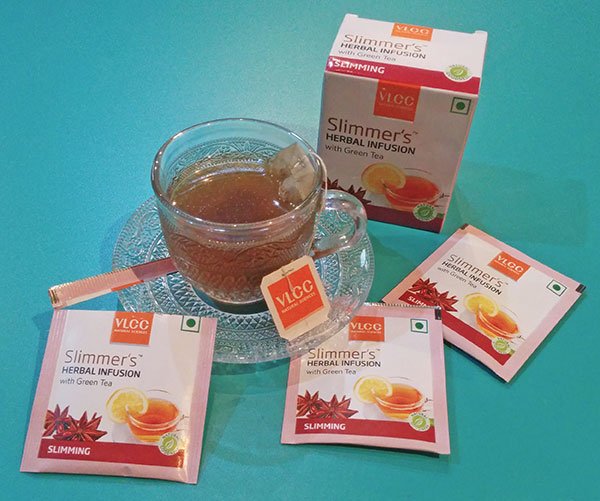 ADVICE
The quality of the water matters a lot. Ensure you use fresh water over already boiled water. This will allow your tea to taste better. If you want to enjoy the best flavor, color and aroma, prefer to heat water in a kettle rather than in a microwave.
This herbal green tea infusion can definitely help you in losing weight if you replace it with aerated drinks and unhealthy snacks. You should definitely make it a part of your routine.
RATINGS: 4/5