Last night, while coming back to home, my husband called me up and asked me to get ready for the party. I simply hate these last minute party invites, especially when you are not prepared for it. Actually, I wanted to wear my new sleeveless top but my arms were not waxed. Moreover, the upper lips and stubborn eyebrow hair were other major concerns. And I didn't want to step out without looking at my best. But thanks to Veet Sensitive Touch Electric Trimmer. It came as a rescuer for me! I got it two days back but didn't get the time to use it. Let's see how this cute little tool helped me in such emergency.
PRODUCT DESCRIPTION
Veet is one of the most popular brands known for hair removal solutions. Now they have launched this device, especially designed to gently trim and precisely shape your delicate body parts. It quickly and gently cuts hair on sensitive areas like face, underarms and bikini line.
Quick and Gentle: easily remove any unwanted hair in one go with no fear of cuts.
High Precision: dedicated accessories to get precise shaping and styling.
*Also ideal for quick touch-ups.
*Water rinsable (see user manual for cleaning instructions).
ALSO READ: Review on Elle 18 Eye Drama Bold Black Kajal.
CONTENTS
The Veet Sensitive Touch box contains wide range of accessories.
FACE
Beauty Styler.
Double sided trimming head: 16 mm and 6mm for optimal eyebrow shaping.
2 and 4 mm comb attachment to uniform hair length.
Styler cap.
OTHER BODY AREAS
Bikini trimming head 20 mm
Comb attachment to uniform hair length.
OTHER ACCESSORIES
Cleaning brush.
Beauty pouch.
AA battery included.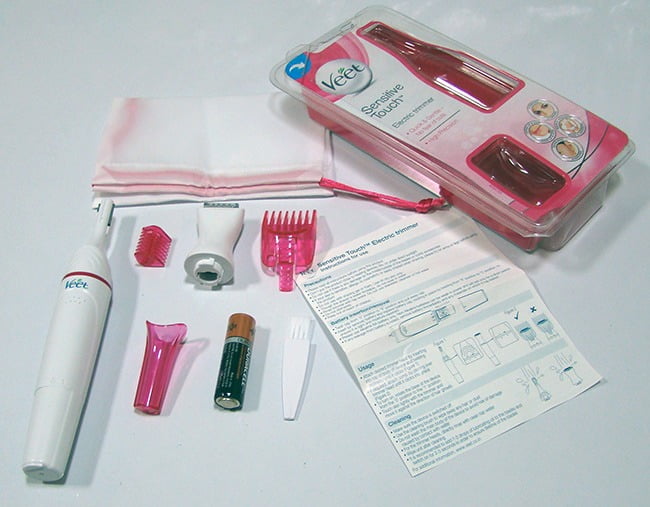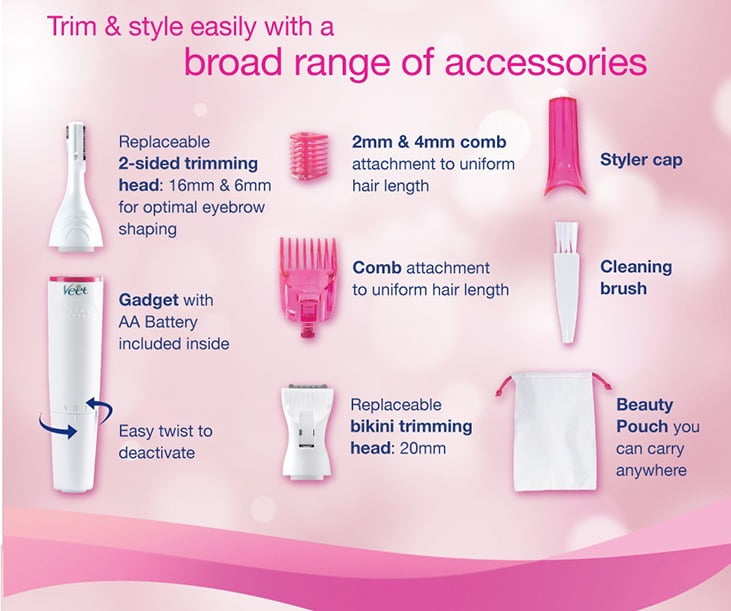 Click here For Latest Discount Offer of Veet Sensitive Touch Electric Trimmer
MY TAKE ON VEET SENSITIVE TOUCH ELECTRIC TRIMMER
You get to see a variety of electric trimmers for men in the market but similar device designed for women was lacking. And I had been eyeing this one for a very long time.
Going to a parlor is out of question when you are in a hurry to go somewhere or if there is any other instant plan. I am so glad Veet has discovered this, keeping women and their hair-trimming needs in mind.
PACKAGING
Like all other products of Veet, it is also pink in colour. It comes in a transparent plastic chamber which gives a glimpse of the Veet Sensitive Touch Electric Trimmer. You get to see all the salient features described on the box and pictorial guide as well. All the parts are neatly sealed in it.
Apart from being compact, handy and travel friendly, I found the packaging very well thought out too. No need of scissor, you just have to peel off the plastic and reach the actual product. So girls…you don't have to sacrifice your nails while opening this beauty gadget!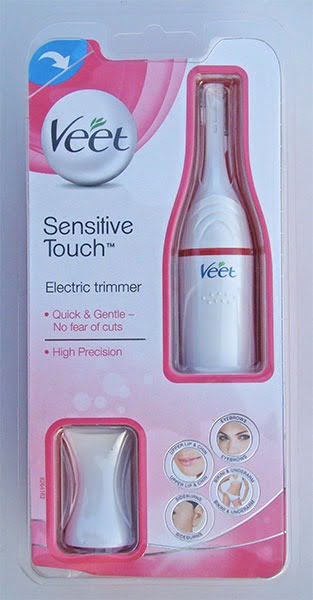 ALSO READ: Best Beauty Tips Before Going To Bed.
USAGE
This helps in getting rid of ever growing unwanted hair in pretty painless way, leaving no marks whatsoever.
FOR FACE (Eyebrows/ Chin/ Upper Lip/ Sideburns)
Style your brows the way you want with Veet sensitive touch electric trimmer!
For perfect looking eyebrows, use the 2-sided blade attachment and touch it lightly against the skin to contour the brow. Always move the Styler in the opposite direction of hair growth. For more precision, don't attach the comb.
I won't suggest you to go for eyebrow shaping with this tool. You need to require a lot of practice for that so that you don't end up shaving your brows. Use it only for removing the extra hair.
It really did a great job on my upper lips. I am happy that I don't need to undergo that painful threading sessions at parlour. Now, no more watery eyes and redness over upper lips. Even the tiniest and finest upper lip hair can be removed with this tool.
This small head can be used to remove all other extra facial hair, whether on your chin or sideburns etc.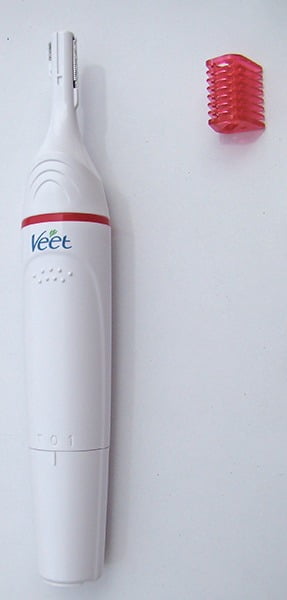 ALSO READ: Types And Techniques Of Hair Straightening.
FOR UNDERARMS AND BIKINI LINE
For bikini and underarms hair trimming, just twist off the small head and change it for the larger one (an attachment with 20 mm blade). In case you want to just trim the hair, use the attachment comb and if you want to shave completely, remove the comb.
I didn't even feel the razor blades and it shaved my underarms very smoothly.
For bikini line, I think it consumes a lot of time and battery too. But yes, it removes hair very gently from these sensitive areas and hair doesn't grow back feeling prickly.
Best part is that it's cutting blades don't even touch the skin, so you don't have to worry about nicks or cuts.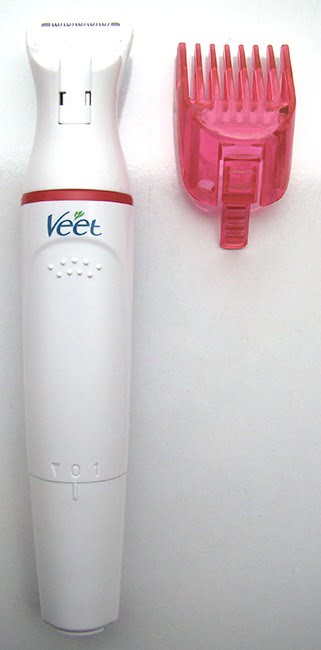 *Use the trimmer on dry skin. No shaving gel, cream or foam is required.
If you are looking for a razor that can get multiple jobs done, then I think you should invest in this beauty gadget. It is a great product for touch ups anywhere, anytime and makes your life easy on-the-go.
This cute little device is travel friendly too as it is very sleek and slim. Put it in a beauty pouch and carry along wherever you go.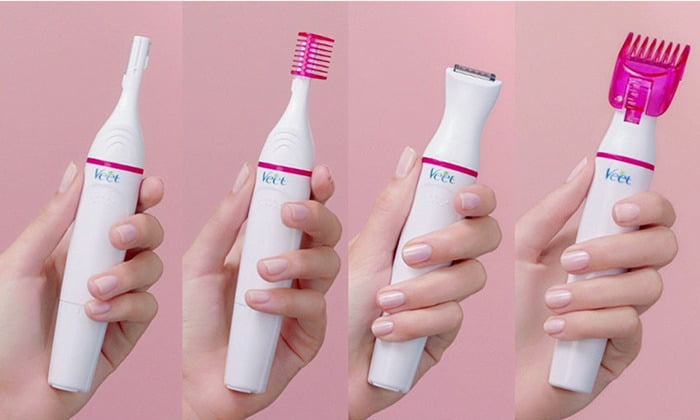 PROS
Perfect packaging.
Portable and travel-friendly.
Hassle free and painless hair removal.
Precise and easy to handle.
Multiple areas usage.
No fear of nicks or cuts.
Cordless: No chance of getting entangled in wires while you shave.
Water rinsable.
 CONS
A bit pricey.
Doesn't give a parlour finish.
Consumes time for bikini trimming.
Battery may wear off easily and require frequent change.