Being a beauty junkie, I am always on the lookout for good quality skin care products whether it is face washes or moisturizers and creams. Recently I came across Jovees Gold Ultra Radiance Face Wash. I have been using this face wash for the past 10 days now and have started noticing the difference in my skin. So, I thought of sharing my experience on it with everyone. Without delaying, let's check out my reviews on this face wash.
PRODUCT DESCRIPTION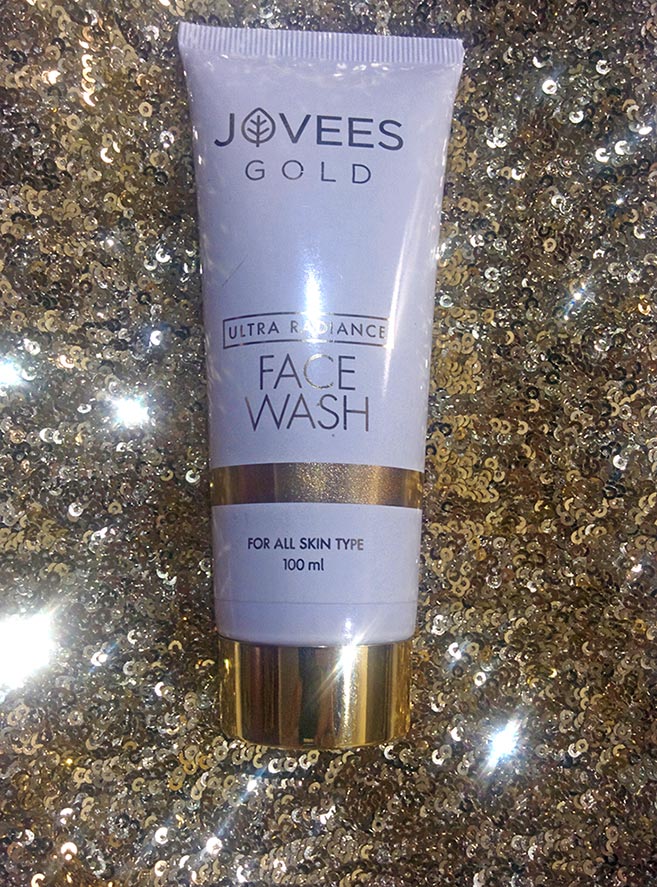 WHAT DOES THE BRAND CLAIM
Jovees Ultra Radiance 24K Gold face wash specially developed using latest scientific methods to help bring glow and radiance to your skin. It shall helps to mitigate fine lines making your skin look younger.
HOW TO USE IT
Moisten face. Squeeze out a small amount on your palm. Massage gently on the face and the neck. Rinse well and pat dry.
INGREDIENTS
Gold dust, Daisy flower ext., Beta vulgaris ext., Camellia sinensis leaf ext., Blue cornflower ext., Cucumis melo fruit ext., Hibiscus seed ext., Lilium candidum flower ext., Malva sylvestris flower ext., Melissa officinalis flower ext., Passiflora edulis(Passion flower) fruit ext.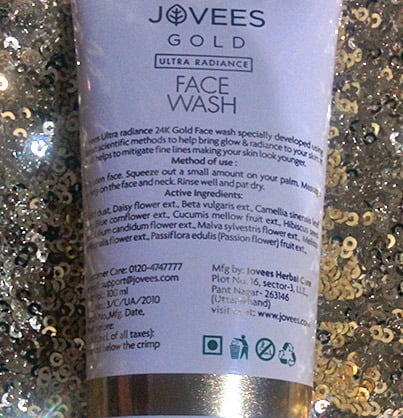 PRICE
For 100ml.

For 50ml.

ALSO READ: Review Of Elle 18 Eye Drama Bold Black Kajal.
My Take On Jovees Gold Ultra Radiance Face Wash
PACKAGING
It is the packaging that attracted me to this face wash which looks very royal and pretty. The face wash is packaged in a white and gold tube which looks very classy with a rotatable gold cap. On top of a white tube, every detail is mentioned with golden color. No doubt, the gold cap closes quite firmly but its plastic is not of very good quality. It might break if it falls. Also I feel that flip top cap mechanism would have been much better rather than this rotatable cap as it leads to the face wash immediately running out of the tube.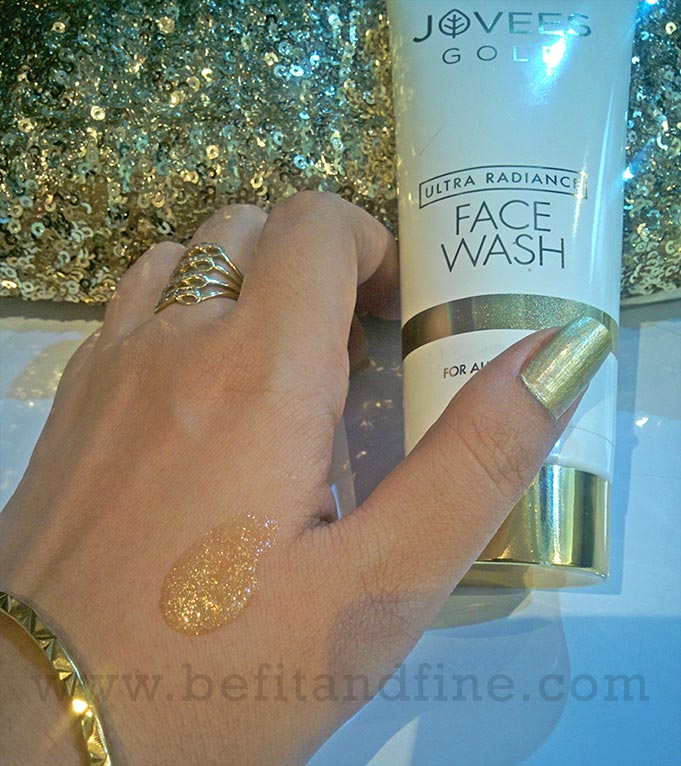 TEXTURE AND CONSISTENCY
The face wash has a gel-like smooth texture which is quite runny. It contains gold glittery substance and gives an instant glow to the face. You can see golden micro particles very clearly in the face wash which looks absolutely glam while oozing out!
FRAGRANCE
It smells exotic! It has got a beautiful mild fragrance. Everything about this product is so good that I am loving it!
MY EXPERIENCE….
When I opened the cap, I found that tube was sealed. Amazing! Usually face washes are not sealed and we are not assure of the quality and quantity we get but Jovees Gold Ultra Radiance Face Wash made sure to keep the quality and quantity intact. The tiny seal easily cracks. I opened the seal, squeezed a pea size amount (you need very little of it to use it on your face & neck) of it on my palms and used as directed.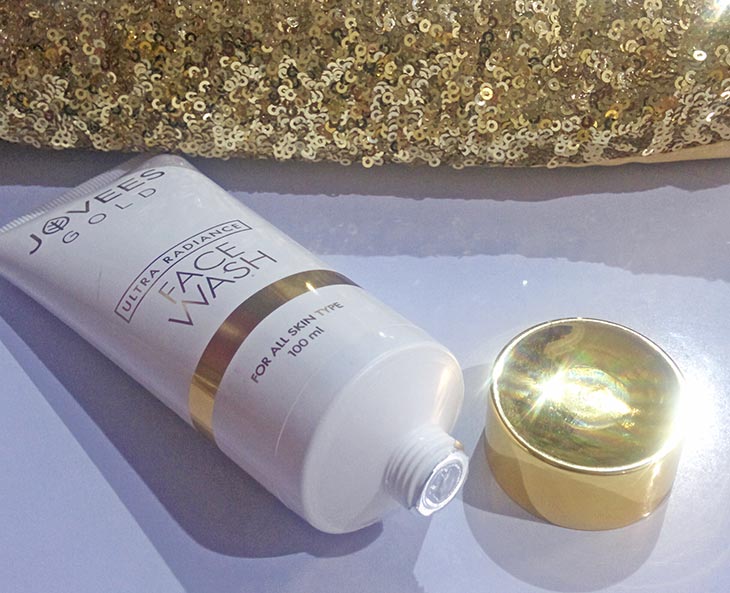 This transparent gel simply sprinkled with tiny gold particles, lathered in abundance. You won't feel these shimmery particles but it's very much visible all over your face,  glittering here and there. I loved the glittery satin like touch on my face. Best part is that these sparkling particles rinses off easily, leaving behind an instant radiance on your face.
Don't expect too much of changes in your skin in just 2-3 washes. Be patient and use it regularly for an evident glow on your face. Apart from removing all impurities, dirt and oil, it will make your skin brighter and radiant! Although I don't feel the need to moisturize my skin after using it but I always follow up with a good moisturizer as it is a part of my beauty regime. You too, should never skip your moisturizer after washing your face.
One of the best part about Jovees Gold Ultra Radiance Face Wash is that it is for all skin types. You don't need to buy different types of face wash for your family members.
All I can say is that I am highly satisfied with this product and would definitely recommend this to you all. It's different…worthy of trying out!
ALSO READ: DIY Homemade Anti-Aging Eye Cream To Prevent Wrinkles.
PROS
Amazing results for all skin types.
Only a small amount is required to clean the face.
Removes all impurities, makes your skin squeaky clean.
Texture is very smooth.
Adds radiance to the skin.
Nice fragrance.
Does not cause any irritation.
CONS
No flip top which is easier to open.
Not travel friendly as cap is of poor plastic quality.
Face Wash is little runny, comes out as soon as the cap opens which might leads to its wastage sometimes.
Complete list of ingredients not mentioned.
Hope you liked the review! Don't forget to share your experience after trying this.