Actress-turned-entrepreneur, Shilpa Shetty, who is well known as one of the fittest actresses in Bollywood, keeps sharing a variety of healthy and delicious delicacies through her wellness website. The queen of fitness has quick hacks to daily wellness solutions. I love the way she gives healthy twists on desi foods. This time Shilpa demonstrated her skills on classic nimbu pani. She shared a cool healthy lemonade recipe on her digital series. Her twisted "LEMONADE' contains chia seeds and is devoid of any sugars or artificial sweeteners. Instead of sugar, Shilpa has added her favorite ingredient – jaggery. Watch this video where Shilpa will quench your thirst with "MAGIC MINT NIMBU PANI."
ALSO READ: Best Tips To Control Sugar Cravings (Sweet Tooth).
INGREDIENTS FOR HEALTHY LEMONADE RECIPE
2 glasses of water.
1 teaspoon of ginger juice.
1 1/2 lemon juice.
Jaggery as per taste.
Ice cubes (optional).
1/4 teaspoon of rock salt.
1/4 teaspoon of black pepper.
Mint leaves.
Salt as per taste.
2 tsp of soaked chia seeds
ALSO READ: Amazing Diet Secrets Of Shilpa Shetty.
METHOD
Put all ingredients in a blender, blend properly and serve chilled. You can garnish it with mint leaves and a slice of lemon.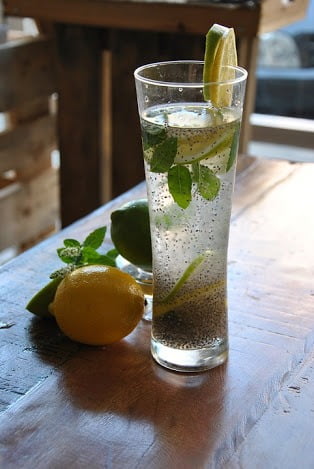 I have already tried my hands on it and believe me, it'a perfect way to beat the heat this summers. What are you waiting for? Go and refresh your body with a glass of this chilled healthy lemonade recipe!
Watch Benefits of Drinking Lemon Water