I am a very health conscious person so the moment I saw Jacqueline Fernandez promoting this healthy snack, I decided to give it a shot. EPIGAMIA GREEK YOGURT – yes, it is finally here on Indian shelves, right in between paneer and curd. Name itself is very exotic with some interesting historic origins associated with it. You can read it on the side of the cup which gives some spiel. It is easily available at upmarket grocery stores across the metros such as Nature's Basket. I picked up 3 flavours…Something for all palates, I thought.
It was something new for my family members, they hadn't heard of Epigamia Greek Yogurt before (like most of you). They thought it was an imported ice cream, somewhat like Haagen Dazs. And why not, after all, it's thickness and creaminess is as great as an ice cream. I loved it's packaging too which is very bright in colour, perfectly apt for summers.
ALSO READ: Unicity Matcha Review: A Magical Health Drink For Weight Loss
WHAT IS GREEK YOGURT
When you hear "Greek yogurt", what pops into your head? 'Diet Food'? 'Super healthy'? or 'Crazy-high protein'? Well, your guess is almost right. Let me explain clearly-
In simple terms, Greek Yogurt is made by straining the yogurt to remove its liquid (whey). And the leftover is the creamy stuff with less sugar, fewer carbohydrates, and more protein compared to regular yogurt. Epigamia Yogurt is one of the only few greek yogurt brands available in India at the moment.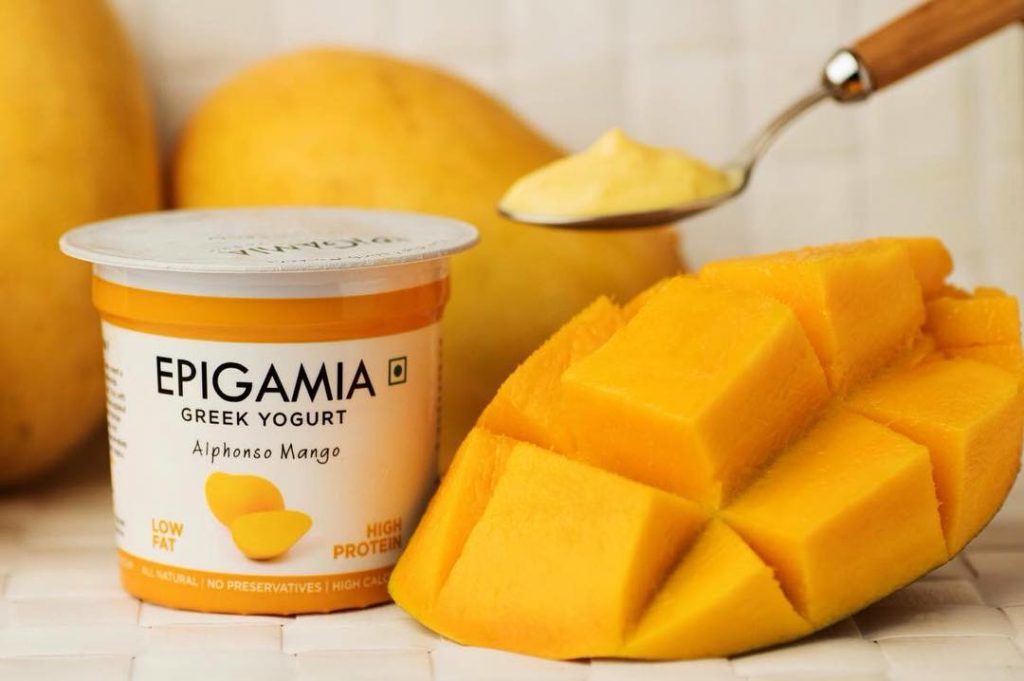 HEALTH BENEFITS OF EPIGAMIA GREEK YOGURT
Yes, it does contain more protein than the regular dahi (Contains Protein Equivalent To 1.5 Boiled Eggs or 2 Cups of Dal), but what else?
Greek yogurt, including Epigamia, has
Zero cholesterol,
More protein,
Calcium,
Vitamin C,
Phosphorus,
And low fat.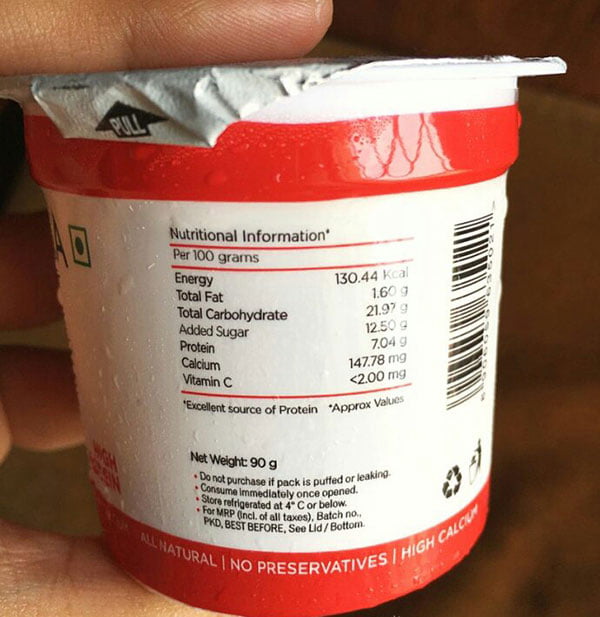 It has permitted 'natural' color, added natural flavors and added sugar. But it is totally free from preservative and artificial flavors, making it 100% natural.
Our traditional Indian diet – dahi, raita, buttermilk or lassi – all are full of 'friendly bacterias.' These bacterias in our gut play a crucial role in wellness. Epigamia Greek Yogurt also claims to have these healthy bacterias that keep our gut cool.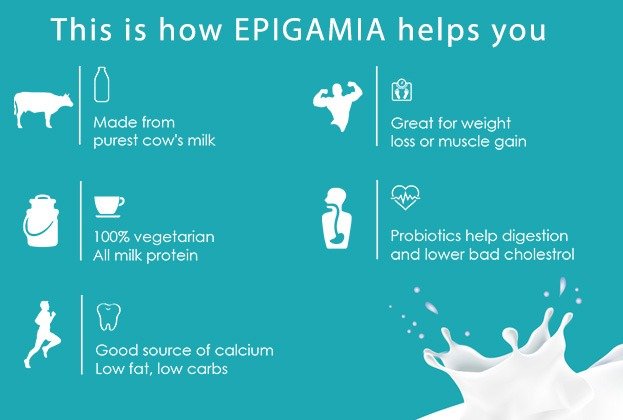 VARIETY OF FLAVOURS
The best part is its different unique flavours that I have not found anywhere else till date. Apart from plain yogurt (natural), it is also available in tantalizing flavours like
Natural,
Mango,
Strawberry,
Blueberry
Mulberry,
Honey Banana,
Green Apple,
Vanilla Beans.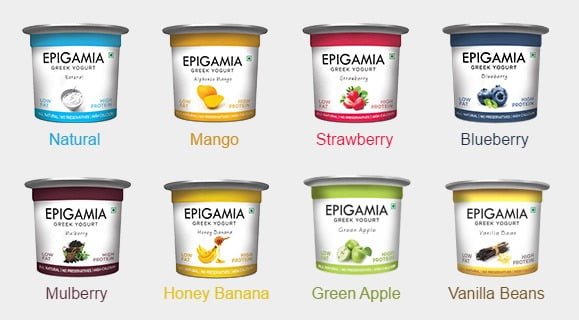 Just one spoon in… and you will feel the entire taste of the fruit bursting in your mouth. Its fruity flavours can make for a good dessert too.
No doubt, flavoured one is healthier but it still contains a sugar (12.5 grams per 100 grams). But hey, don't feel overly sweet like ice cream does sometimes.
Natural Greek Yogurt is healthy though — no added sugar, just a good dose of calcium, (healthy) fats and carbs.
ALSO READ: Best Tips To Control Sugar Cravings (Sweet Tooth)
PRICE OF EPIGAMIA GREEK YOGURT
Priced at
Rs 38 per 90 grams cup (flavoured)
Rs 35 per 90 grams cup (natural)
You will find it little pricey if you compare it with Danone's strawberry yogurt which is of Rs 25 per 80 grams. But then again it's a western gourmet product so the price is obvious.
I would say, it's ok if it is more expensive than other flavored or plain yogurt available in the market. After all, it's a tastier and healthier option, something far better than the namkeen in my house.
So are you ready to try this wonder of the West — Greek Yogurt, specifically, Epigamia Greek Yogurt? I haven't tried the other flavours but whenever you try, do share your reviews below.