Shilpa Shetty is one of the fittest Bollywood Icon and it is her diet that keeps her in perfect shape. Recently, she gave us a peek into her healthy breakfast muesli recipe that she eats for breakfast.
Shilpa said, "Muesli is my go-to super-food that I just can't do without. Power-packed and delicious, one round in the morning and I am ready to take on anything! So why don't you try it out!"
Best part is that you can have it as your evening snack too instead of having pakoda and samosa.
ALSO READ: Amazing Diet Secrets Of Shilpa Shetty.
Watch The Video To Learn How To Make It.
INGREDIENTS For Healthy Breakfast Muesli Recipe
4 tbsp. Organic Muesli
2 tbsp. Curd
½ cup Coconut Milk (or any milk of your choice.)
1 piece of Anjeer
4 pieces of Walnuts
2 pieces of Almonds
2 tbsp. Pomegranate
1 peeled and grated Apple
Pinch of Cinnamon Powder
1 tbsp. grated Coconut (optional)
3-4 tbsp. Sabja seeds
METHOD
Mix organic muesli with curd and coconut milk in a bowl. Keep it aside for 10 minutes. Once it gets soaked, add all other ingredients in it where coconut is optional.
It would be better if you soak sabja seeds a night before in coconut milk or in any other milk of your choice. When soaked, they begin to swell and become twice their size.
So, your healthy bowl of muesli breakfast is ready! You can garnish it with pomegranate and grated coconut.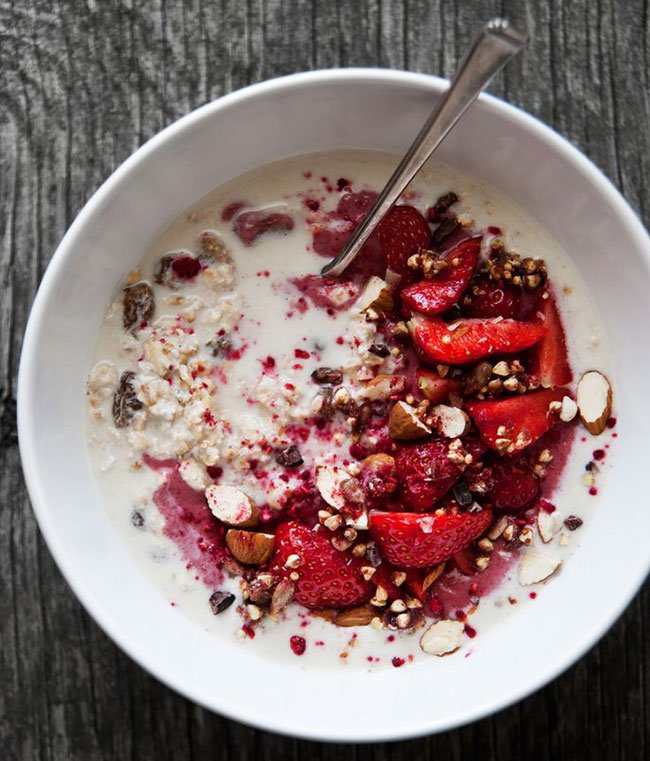 ALSO READ: Cool Lemonade Recipe By Shilpa Shetty.
Muesli has comparatively less sugar and calories than most breakfast cereals on supermarket shelves. It's high in fiber and whole grains, which regulate the digestive system. This breakfast keeps you full for longer period of time. It is perfectly balanced with good fats, protein, fibre and can aid in weight control.
So, are you ready to try out this easy to make healthy breakfast muesli recipe?