What Aamir Khan did for his film DANGAL, deserves all our salutes and applauses. Once again he has shown his sheer dedication to fit into the skin of the character, by transforming his body. Aamir Khan weight loss journey is an inspiration to everyone. Scroll down to watch his fabulous fat to fit story.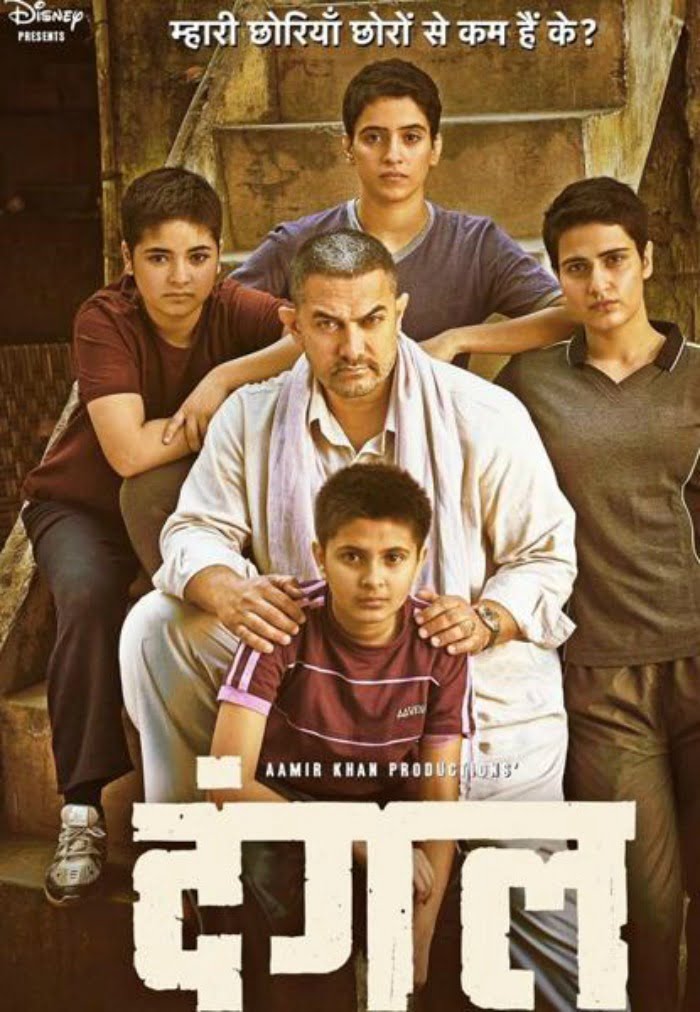 AAMIR KHAN WEIGHT LOSS JOURNEY – DIET
AAMIR KHAN'S WEIGHT GAIN
The film has two phases. For one part, Aamir Khan had to put on weight. He weighed 97 kgs with 38 percent body fat and that he had to reduce to 9 percent body fat within five months. That was a huge task.
Khan said, "I suggested to the director that I should put on weight first as 80 percent of the film revolves around my fat avatar. Also, if I shoot those parts later then I will be left with no motivation to shed the extra kilos."
Thus began his journey of weight gain which he thoroughly enjoyed. To gain weight in the initial part, Khan gorged on everything, from brownies to samosas, chocolates, ice creams and cakes everyday." This helped him reach the mark of 97 kg from 70 kg.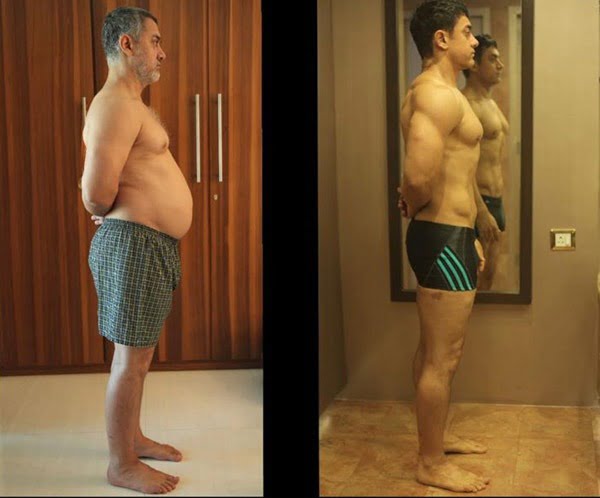 AAMIR KHAN'S WEIGHT LOSS
The tricky part came when he had to shed all that extra flab. Diet plays an important role in changing your body. You can exercise all you want  but if your diet is not right, you won't get the desired result. Here is what he said in the interview –
"People use new methods, different diets these days. I still stick to calorie count system. Take 20 percent of your calorie intake from healthy fats, 30 percent of calories from proteins and 50 percent of the calories consumed should be from carbohydrate. Cutting off carbohydrates completely from diet to lose weight is a popular myth, followed by many. Infact it's the carbohydrates that give the body energy and the brain glucose. The key is a balanced diet. If you want to lose weight, you should consume less and burn more. I used to consume around 1500 calories a day but burnt a lot more."
Bulking up and then losing all the extra kilos is nowhere near a cakewalk but he has managed to do it and gave all the credit to his team –
Renowned dietitian, Dr Nikhil Dhurandhar from London, with whom he consulted customised diet plan on caloric deficit and fitness trainers, Rakesh Udiyar (the trainer of actor Salman Khan) and Rahul Bhatt (son of filmmaker Mahesh Bhatt)
AAMIR KHAN WEIGHT LOSS JOURNEY – WORKOUT
Along with the diet, Aamir Khan had a strict exercise regimen that included a lot of weight lifting. The makers of the Nitesh Tiwari's biopic, Dangal, which is all set to release on December 23, have released a Fat to Fit video. This 5-minute 20-seconds, behind-the-scenes video tells the story of the Aamir Khan's personal dangal with weight. It reveals his intense training schedule in the gym to build the enviable physique.
AAMIR KHAN'S ADVICE ON WEIGHT LOSS
The actor has issued a disclaimer stating – "I would like to mention that putting on weight and losing it so fast is very unhealthy. I did it because of professional requirement for my film under the supervision of health experts. But I would not advice the same for any regular person. Don't forget – slow and steady wins the race. For weight loss, 50 percent is that of the diet, 25 percent depends on workout and the rest 25 percent is taking rest (sound sleep is very important). Stay away from any weight loss pills, it's just a myth."