Teeth are some of the first things people notice; they are actually a sign of health as well as confidence. But do you feel embarrassed and struggle over the yellow appearance of your teeth? If yes, try these DIY teeth whitening hacks which you can easily try at home.
DIY Teeth Whitening HOME REMEDY 1- Baking Soda Rinse.
METHOD
Mix 1 teaspoon of baking soda in 1 cup water and add 2-3 drops spearmint oil. Use this for rinse and spit, don't swallow! You can also use it as a mouth rinse after brushing. Adjust the strength to your taste by making the spearmint oil concentration stronger or more diluted.
WHY IT WORKS
BAKING SODA
The baking soda has a mild abrasive property that removes the stains from teeth. It acts as a natural teeth whitener and prevents the teeth from staining again.
SPEARMINT OIL
This has an antibacterial property that kills bacteria and very effective in combating bad breath.
ALSO READ: Dental Care Tips For Clean White Teeth
HOME REMEDY 2️- Hydrogen Peroxide & Baking Soda Paste.
METHOD
Mix 1 teaspoon of baking soda with 1 teaspoon of hydrogen peroxide. Stir until it becomes a paste and start brushing. Let the paste stand for a minute and then rinse.
WHY IT WORKS
BAKING SODA
The baking soda has a mild abrasive property that removes the stains from teeth. It acts as a natural teeth whitener and prevents the teeth from staining again.
HYDROGEN PEROXIDE
Hydrogen peroxide is a bleaching agent that can absolutely help in whitening teeth. It acts as a natural antiseptic/antibacterial agent and keeps breath fresh by eliminating bad bacteria.
HOME REMEDY 3- Banana Rub.
METHOD
After brushing, take a piece of the inside of the banana peel and gently rub around on your teeth for about 2 minutes. Rinse and floss afterward. Or you can use the banana peel first and then brush your teeth as usual with a natural toothpaste.
You can do this twice a day. Don't expect any results just after one treatment. Continue this procedure for up to two weeks for natural pearly white teeth.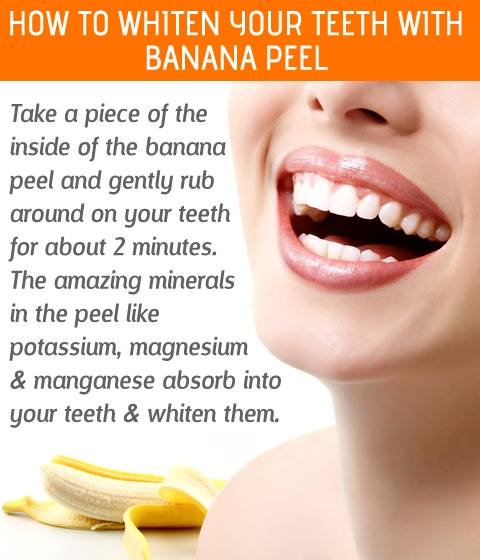 WHY IT WORKS
BANANA PEEL
Ripe bananas are rich in potassium, magnesium, manganese & other minerals that can help whiten teeth. They do not have the abrasiveness that other natural whiteners have and best of all they are inexpensive.
ALSO READ: 5 DIY Beauty Hacks Using Kitchen Wastes
HOME REMEDY 4-️ Activated Charcoal Paste.
METHOD
It can most often be found in capsule form. Pull 4-6 pills apart and mix the charcoal powder with a small amount of water, enough to create a paste. For DIY teeth whitening, wet a toothbrush and dip into powdered activated charcoal. Brush in small, gentle circles for about 2 minutes, paying special attention to areas showing the most staining.
Leave the activated charcoal paste on your teeth for three minutes to ensure that it has had enough time to bind with surface stains on your teeth. Sip a bit of water, swish through mouth thoroughly and spit. Rinse well, until spit is clear. For best results, brush your teeth with activated charcoal two to three times per week.
Avoid using it if you have crowns, caps or porcelain veneers. Do not perform this procedure if you have any open wounds, cuts, or abrasions.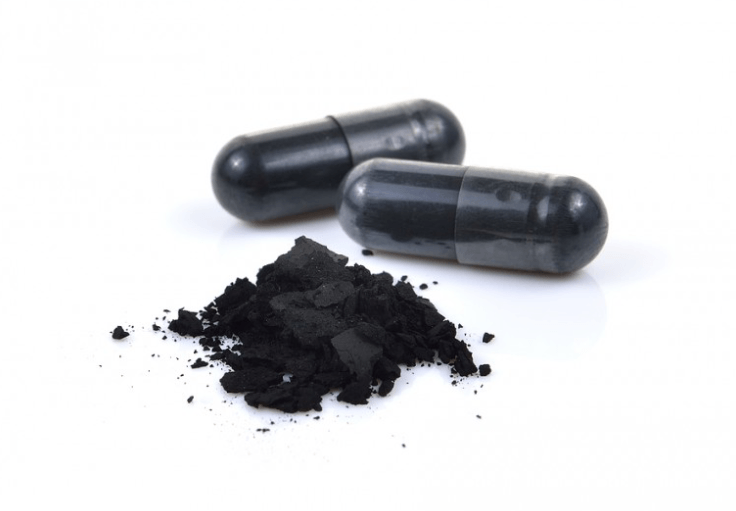 WHY IT WORKS
Activated charcoal has amazing detoxifying benefits & it binds the bacteria before it stains your teeth. It can help whiten your teeth by absorbing plaque and microscopic tidbits that cause staining.
ADVICE
Always test out any products first, to make sure you don't have any allergies or reactions. Everyone is different so results will vary from person to person.
It's important to clean your teeth after having meals. Additional benefits will come from drinking a lot of water, brushing your teeth twice a day, avoid tobacco chewing, acidic drinks, and quit smoking.
Brushing your teeth with baking soda will not replace brushing with regular toothpaste. So never miss your everyday teeth cleaning.
If you had any dental implants recently or using dental fixtures then we suggest you to consult your dentist before following any of the above remedies.
All these may potentially work over time, so don't expect for an instant and fast result.