Going to a party tonight and want to wear that little black dress of yours? But the fear of dandruff is holding you back, right? And why not? Those white flakes on the shoulder are a dead giveaway on a black dress! Worry not, here is a solution if you want dandruff free hair. I am going to share 2 anti-dandruff hair sprays which are very simple and easy to make.
HAIR SPRAY 1 For Dandruff free hair

INGREDIENTS
1 Cup Apple Cider Vinegar OR White Vinegar.
1 Tbsp Extra-Virgin Olive Oil.
10 Drops Tea Tree Oil
DIRECTIONS
Mix all the ingredients and pour into a spray bottle.
Shake it thoroughly and simply spray it on the scalp.
Massage well and keep it for 2 hours before shampooing.
Repeat once or twice a week, depending on how often you feel you need it.
ALSO READ: Home Remedies And Tips To Treat FRIZZY HAIR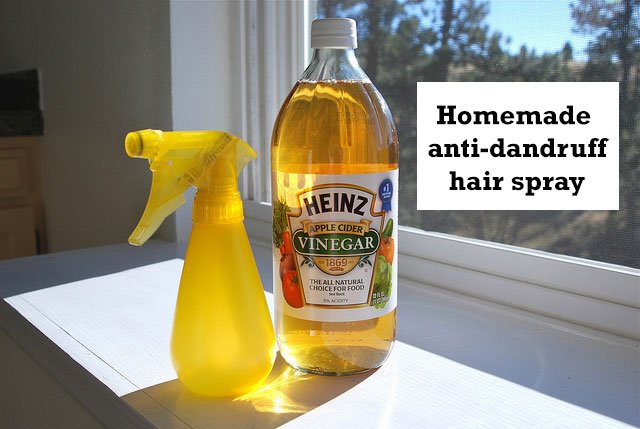 WHY IT WORKS
APPLE CIDER VINEGAR
Apple cider vinegar is antibacterial and anti-inflammatory in nature. So its use kills the bacteria and fungus that cause dandruff. It's acidic content restores the moisture content and the pH balance of the scalp. It also helps clean clogged pores and hair follicles.
OLIVE OIL
Use of olive oil provides moisture, prevents the dryness, itchiness, and dandruff on the scalp.
TEA TREE OIL
This oil has antibacterial, antiseptic, and antioxidant properties which stimulate healthy hair growth and heal many scalp problems like dryness and flakiness. Tea tree oil works as a natural hair clarifier.

ALSO READ: Natural Home Remedies To Prevent Hair Fall And Promote Hair Growth
HAIR SPRAY 2 For Dandruff free hair
Listerine, a mouthwash is not only required for fresh breath but it can also be used as a remedy to treat dandruff! Check out-
INGREDIENTS
Water.
Listerine Mouthwash (Use original one-yellow tinged formula. Avoid green or blue one, as they might stain your hair.)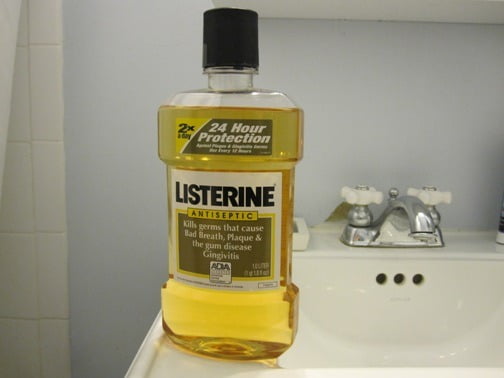 DIRECTIONS
Shampoo your hair as usual and rinse it thoroughly. Skip using a conditioner this time round!
Take a spray bottle. Mix 2 parts water with 1 part Listerine.
Spray this solution onto your scalp, massage in well, and let sit for 30 minutes.
Wash out with water (do not shampoo this time.)
Repeat once or twice a week, depending on how often you feel you need it.
ALSO READ: Treat Acne And Pimples With Oatmeal Face Pack
WHY IT WORKS
LISTERINE
One of the most common cause of dandruff is an overabundance of fungus and listerine has anti-fungal properties.
ADVICE
If you think using just listerine may be too harsh on your scalp, you can add 10 drops of 'baby oil' in it.
Avoid any contact with your eyes as it can put your eyes on fire!
If your scalp is sensitive or if there is any broken skin, skip this treatment until it heals. As listerine contains alcohol, it will sting and probably aggravates the condition.